Increasing gasoline prices
Who would have thought six months ago how much our gasoline prices would be affected by a major crisis in the middle of Europe? None the less, here we are. Since Russia's invasion of Ukraine, gasoline prices have been rising rapidly, and unfortunately, it looks like the rest of the world will also be affected by the war raging in our European backyard. Since Russia is one of the biggest energy suppliers when it comes to crude oil, prices have increased by a whopping 42% compared to gasoline prices at the beginning of 2021.
This is how much people spend on gasoline
Share of fuel costs per 1000 km in net wages in percent, Germany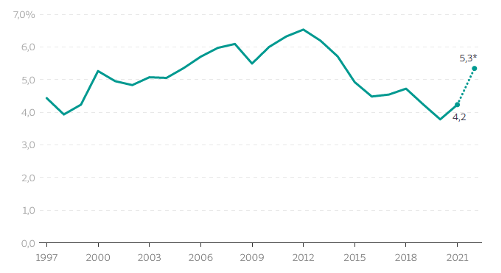 Increased use of public transport
However, the rising gasoline prices also mean that more and more people are switching to public transportation like taking the bus to work. Gasoline prices will remain at an all-time high for the foreseeable future, but you can reduce your gasoline consumption on public transportation with our innovative and cost-effective products. Introducing: MOBILEefficiency. CarMedialab's driver assistance system MOBILEefficiency records real-world fuel consumption and driving situations during operation and automatically generates reports. These reports provide valuable information on energy demand and fuel consumption based on analysis and empirical values. By informing drivers in real-time when they are braking or accelerating too hard, more energy-efficient driving is achieved and encouraged. For example, York Region Transit in Toronto introduced MOBILEefficiency in December 2017 and has already seen an average 50% reduction in unsafe and inefficient vehicle use.
In addition, MOBILEefficiency helps protect passengers on public transportation. By notifying the driver of unsafe driving, action can be taken to correct it. Warnings appear if the driver makes sudden steering movements or applies the brakes too hard. Driving behavior improves, resulting in satisfied passengers who can be assured that they are being transported from A to B in a safe manner. Long periods of idling are detected, encouraging the driver to turn off the engine and avoid wasting resources. That means you can make sure that you are protecting the environment by assuring not overspending valuable energy.
Save resources
MOBILEefficiency helps to reduce fuel costs. Even if one already uses electric vehicles for public transport, one can still benefit from MOBILEefficiency as one can increase its range. One can even view their energy consumption specifically by vehicle, route, driver and even time of day. The data from our driver assistance system can also be used to create training programs for drivers to improve their driving style in general. Use MOBILEefficiency to effectively reduce energy consumption, energy emissions and costs.