Future-proof charging management thanks to VDV-Normen
Users of our charging management system MOBILEcharge benefit from the interoperability of the software to efficiently charge many electric buses. But what does that mean exactly?
Interoperability generally means that a system can work together with other systems. If the system's interfaces are open, collaboration can work with two or more programs or systems. Thus, multiple systems can be integrated without problems of access or implementation.
Interoperability enables integration of existing systems
At Rhein-Neckar-Verkehr GmbH (rnv) for example, e-buses as well as passenger cars are charged at four depots with over 100 charging points. Various interfaces ensure optimal functionality: VDV 463 between charging management and depot management system (DMS) at the customer's site and VDV 261 for communication between charging management and vehicle to control preconditioning (Interior and battery are tempered in time). Compliance with these VDV standards enables a high degree of interoperability. GoRaleigh based in the USA also controls and monitors the charging activities of the e-buses with MOBILEcharge in connection with the control center. Changes can be made permanently so that charging can always be carried out in a cost-saving manner.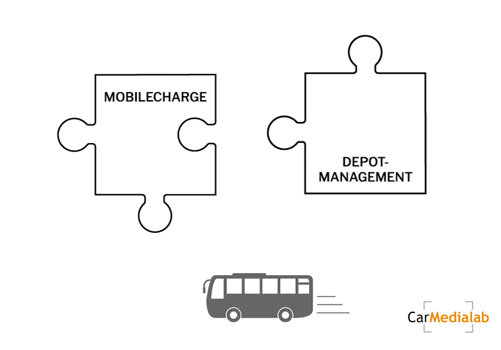 Conveniently charge and monitor e-buses
Through our charging management system MOBILEcharge, all charging processes can not only be primarily controlled, but also monitored in real time. Charging with reduced amperage increases battery life while lowering overall energy demand.
Your contact person:
Maximilian Haag
Phone +49.7251.7240.161
maximilian.haag@carmedialab.com